OTO ("Optical Telecommunication Outlet")
This represents the fibre optic cable outlet installed and assigned to your household.
This is where the Box is connected to the Salt fibre optic network.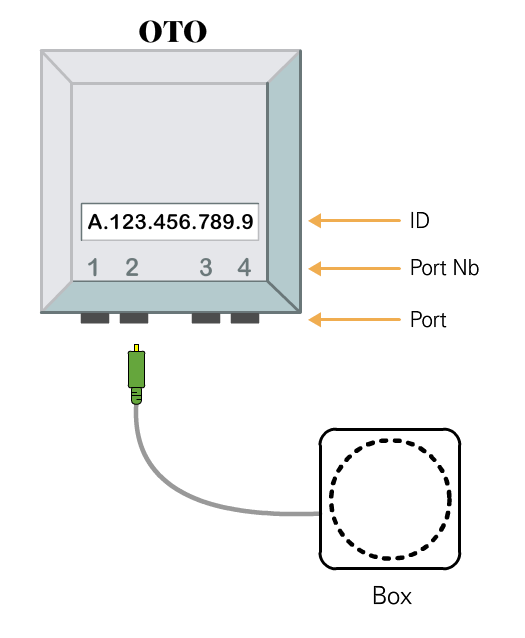 OTO-ID
This is the unique number that allows you to identify accurately your installation. It is a number labelled on the outlet.
The format is as follows:
A.###.###.###
A.###.###.###.#
B.###.###.###.#
(Ex.: A.123.456.789.9 / A.123.456.789.X / A.123.456.789 / B.123.456.789.9 / B.123.456.789.X)
Important
It is mandatory to know this number in order to activate your fibre optic connection. The activation with a correct OTO-ID takes less than 2 weeks, whereas it would take 4 to 6 weeks without or with a wrong OTO-ID. After activation, you will find your OTO-ID in "My Account". If it does not correspond to the number displayed on the outlet, please contact our customer care as soon as possible.
OTO port
There are usually 4 ports per outlet. They are numbered 1,2,3,4.
During the activation procedure, you will receive from us the number to which you will have to connect the fibre optic cable. It is crucial to plug the cable into the correct port otherwise the connection will not work. Keep in mind to handle the cable very carefully, as it is quite fragile.
Where can I find it?
If your home is already connected to the fibre network, your apartment should normally be equipped with an OTO outlet. If you are unsure, your building management or the former tenant should be able to provide this information. The fibre optic outlet can be located in the multimedia distributor in your home, if available, in the living room next to the telephone or TV outlet, in the bedroom or even in a hallway in your home, about 20 cm above the floor. Note: Remember also to check behind the furniture.
Multimedia distributor: