Smart Wi-Fi: Wi-Fi in the whole house
Perfect Wi-Fi for the whole household.
Days
Hours
Minutes
Seconds
Smart Wi-Fi 6 Solution.
Our Smart Wi-Fi Solution creates a mesh network throughout your home so your devices will always connect to the strongest possible Wi-Fi. You'll enjoy more consistent speeds in every room.
Especially featured to work with the Salt Fiber Box X6 (black). Automatic pairing will allow you to extend your Salt Fiber Box X6 Wi-Fi coverage with up to 3 Wi-Fi Boxes in less than 2 minutes.
Note: if you are an owner of the Salt Gigabox you will need at least 2 Wi-Fi Boxes to be installed as a configuration with non-mesh modem.
If you own a Salt Fiber Box (white), please refer to the Wi-Fi Extender.
(standalone mode, check TBC 7b on page 3 of the quick start guide below).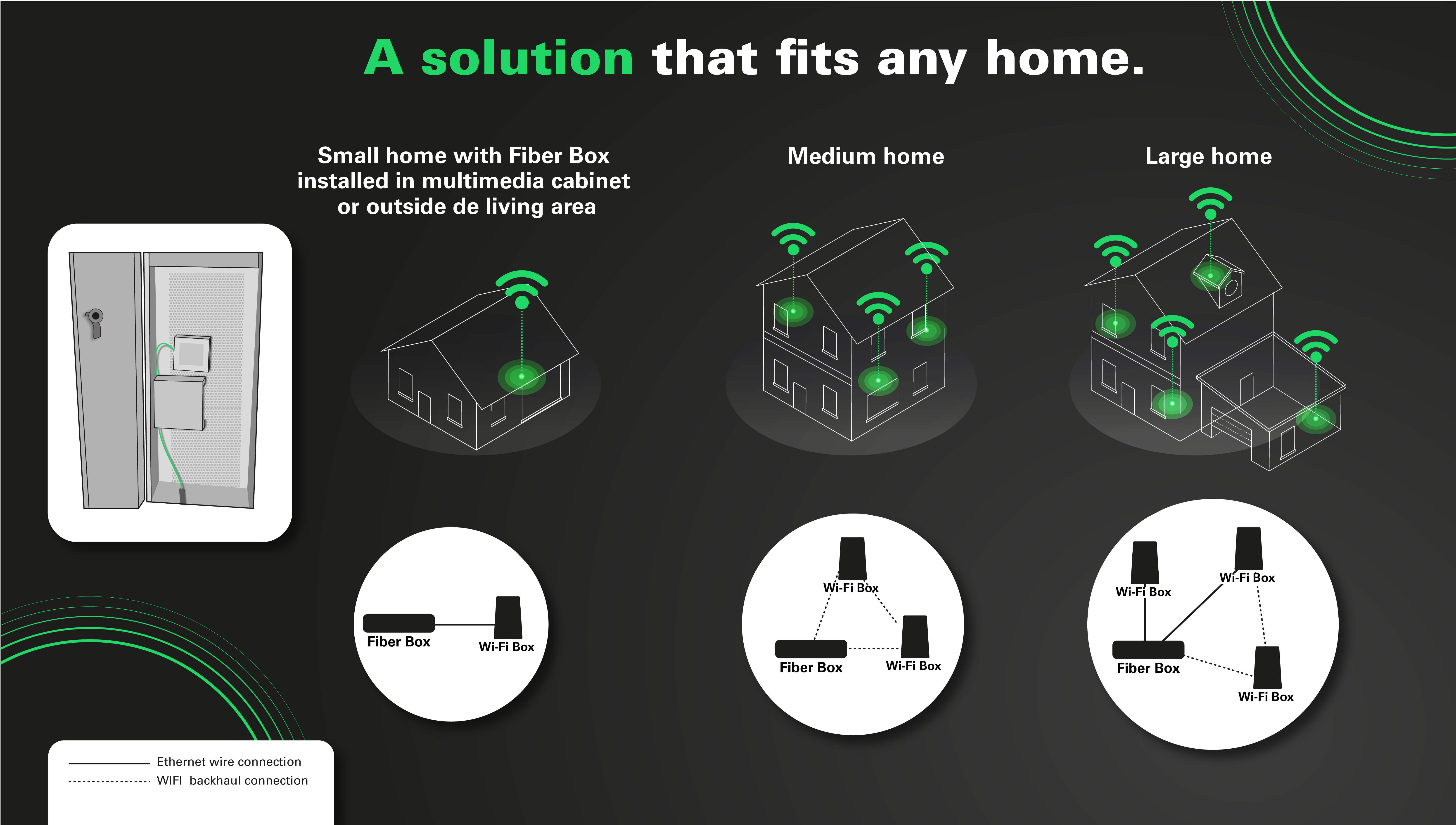 Extend Wi-Fi
coverage by 150 m2
And improves your Wi-Fi signal strength by ten times. Even in hard-to-reach areas.
Ultra fast
Wi-Fi
Can achieve up to 5.4Gbit/s Wi-Fi speed thanks to dual-band 5GHz 4x4 MIMO (supports 160MHz) and 2,4GHz 2x2 MIMO.
Intelligent Mesh technology
Seamlessly connects twice the amount of devices over Wi-Fi with faster speeds and better reliability.
Automatic radio optimisation
Automatically detects and resolves any radio issue. Extends Wi-Fi coverage by picking the best path to internet.
Plug & Play
setup
Simply plug and play. Once paired with your modem, you can move to your desired location without additional wiring.
Eco
Design
Reduced size (-28.5% size overall, -50g of materials, -35% electronic board size).
Minimalist packaging
Fastest Internet in Switzerland became even better.
Great coverage
Extend seamless Wi-Fi connectivity for complete home coverage even hard to reach areas (Extra 150 m2 per Wi-Fi Box).
Connect in Wi-Fi your Apple TV in all the places of your house. Create indoor coverage for Wi-Fi calling, multimedia and smart home applications.
Seamless handover between Wi-Fi Boxes. Smart Wi-Fi automatically connects your devices to the best possible Wi-Fi frequency as you move throughout your home. Detects and resolves any radio issue. Extends Wi-Fi coverage by picking the best path to Internet. Use RJ45 internal cabling or over the air backhauling to connect your different Wi-Fi Boxes.
Ultra fast Wi-Fi
Consistent speed
Wi-Fi 6 (802.11ax) and dual-band 5GHz 4x4 MIMO (supports 160MHz) and 2.4GHz 2x2 MIMO allows to achieve a theoretical speed of 5.4Gbit/s when connected within a single Wi-Fi network with consistent speed. The two Gigabit Ethernet Ports allow a multitude of possibilities to expand your Wi-Fi network and connect devices to it even without Wi-Fi.
Throughput speed
Improves actual data transmission speed from one device to another when uploading photos or downloading your favourite song.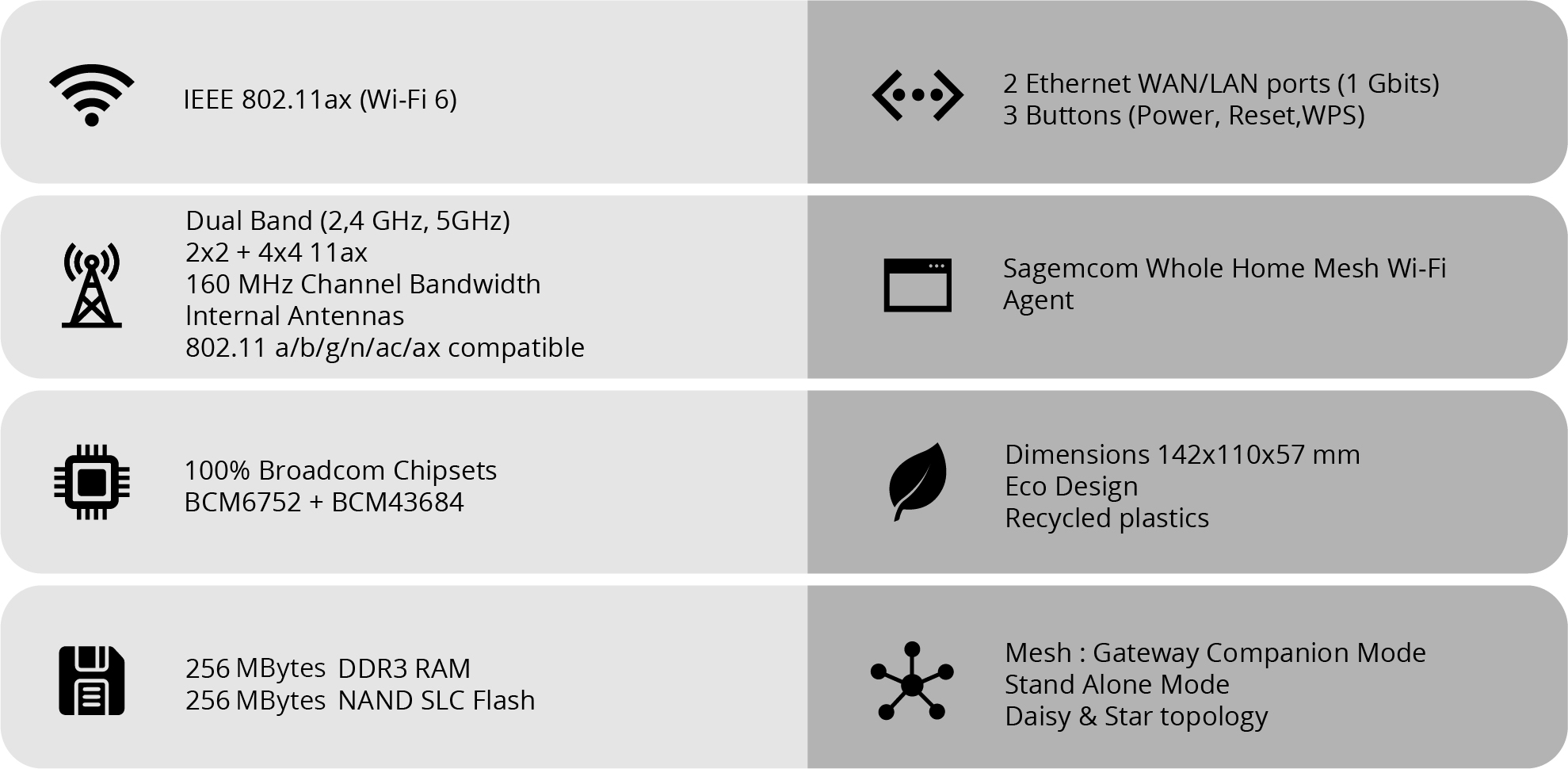 Inside the package
1 x Wi-Fi Box *
1 x power supply
1 x Ethernet cable
1 x quick user guide on the back of the sleeve
* If paired with another modem than Salt Fiber Box X6 (black), minimum 2 Wi-Fi Boxes are required. 
Why
     Salt
Home?
Quality
Best universal provider in Switzerland.
Speed
Best performing fixed broadband internet access
Service
First-class service hotline
Price
Best tariff for a fixed broadband internet access (SIQT)