One HomePod mini included
with your Salt Home subscription!
FIND OUT MORE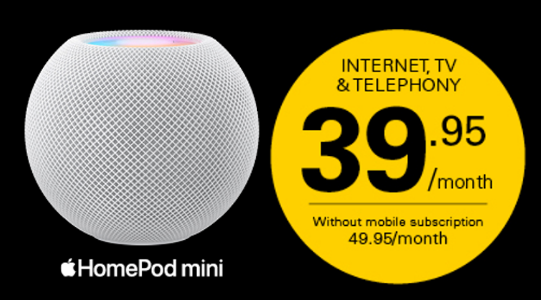 Unique in Switzerland
From just 39.95* CHF/month, Salt Home offers you the fastest internet connection, a fully dedicated TV interface with an Apple TV and more than 260 channels, as well as unlimited calls to fixed and mobile networks in Switzerland.
Please note that the Apple HomePod mini device only works with an iPhone or an iPad. We recommend that users of other phone or tablet brands select the HUAWEI Sound Joy to get the best sound experience.
HOMEPOD MINI:
Room-filling sound.
An intelligent assistant.
Control your smart home.
Works seamlessly with iPhone.
Private and secure.
Wi-Fi and Bluetooth 5.0.
Touch Accommodations.
HUAWEI SOUND JOY:
Devialet speakers inside.
26 hours battery life time.
Water resistant up to 1m.
Fast charge.
Bluetooth.
In order to give you the fittest experience, our team will send you an email and a SMS latest 48 hours after you subscribed and your gift will be then sent by the Post
Interested? Call for free at 0800 780 800 or visit the nearest Salt Store.
*Offer valid until 01.08.2022 for a new Salt Home subscription in a Salt Store, under fiber.salt.ch/home/ or when calling 0800 780 800. Monthly charge with Salt PrePay, Start, Basic and Surf subscriptions: CHF 49.95. Activation fees: CHF 99.95.