Endless TV entertainment with over 260 channels.
Endless TV entertainment with over 260 channels.
39.95
for Salt Mobile
customers
The welcome credit offer is valid until Sunday!
Days
Hours
Minutes
Seconds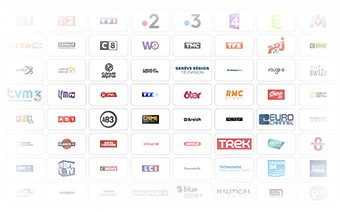 For starters, you need to know that with our box, you will enjoy limitless TV entertainment thanks to a package of more than 260 channels. Depending on the chosen language, you will be able to personalise your subscription by adding Deutsch Exklusiv for German-speaking shows and series, CANAL+ premium for French-speaking content or Sky Sport & Sky Show for the biggest sports events and current blockbusters. Apart from that, we also offer numerous attractive international packages. And all of this without an additional decoder!
Replay
7-days of replay available as an option on 260+ channels
MySports
packages
With MySports, viewers across Switzerland can enjoy all the National League games and the top NHL games live.
 
CANAL+
packages
The richest variety of sports, movies and series to watch wherever and whenever you want.
 
Deutsch Exklusiv
packages
With more than 33 channels the greatest German language variety of exclusive genres, series premieres and HD content.
 
International
packages
Start travelling from your couch. Choose your favourite package and watch favourite TV channels from around the globe.
*TV activation fees CHF 98.95
Why
     Salt
Home?
Quality
Best universal provider in Switzerland.
Speed
The best fixed-line Internet acces.
Service
Best service hotline in Switzerland.
Price
Premium offers at the best price: compared to competitors save up to 1,000.–/year.