PLAYSTATION 5 825 GB
SONY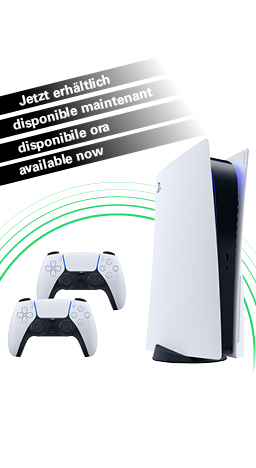 Choose the offer that best suits you :
Information
The PlayStation 5: the next-gen console
Since its release in 2020, the PlayStation 5 (PS5 for the hardcore fans) continues to be a success. Only two weeks after its launch, Sony already announced that more than 2 million units had been sold. In June 2020, over 20 million PS5s were sold. The latest Sony console offers a new way of playing. Featuring an 8-core processor, a next-gen graphic card and an 825 GB SSD drive, it boasts accelerated loading times.
The PlayStation 5 offers a completely new, immersive gameplay. This is because of the haptic feedback and its reactive vibrations from the DualSense wireless controller, which is also equipped with adaptive trigger buttons. This is a dynamic resistance which reproduces the tension of certain pieces of equipment and objects in the game for a more realistic gameplay. The DualSense controller also features an integrated microphone. You can communicate easily with your gaming colleagues and deactivate it to concentrate on the harder parts of the games.
Its 3D audio system completes the technical features of this console bursting with the latest technology. On the PlayStation 5 you get to experience realistic images thanks to the Raytracing technology for more natural shadows and reflections. Together with an HDR television, compatible games will display an unprecedented range of colours. For certain games the frame frequency reaches up to 120 FPS for an incredibly fluid gameplay. When it comes to its design, it features futuristic lines making it a standout piece in your living room. You can position it vertically or horizontally.
Thousands of games and a modern Blu-ray drive
The PlayStation 5 offers a lot of flexibility. Its Blu-ray drive can play your favourite movies in 4K UHD. This console is backward compatible: thus, you can play your favourite PS4 games. Your PS5 comes with a disc drive for games on discs, but of course you can also download digital games directly from the PlayStation Store. You will find around 4,000 PS4 games compatible with the PS5. Some have received a Game Boost treatment, which means that their refresh rate is now faster and more fluid. Before starting, you can learn the ins and outs of your new console by testing the free game ASTRO'S Playroom. The PlayStation 5 is compatible with the PlayStation VR headset.
Device specifications
Operating system

PlayStation

Size (in mm)

390 x 260 x 104mm