MateBook D14 512 GB E5576
HUAWEI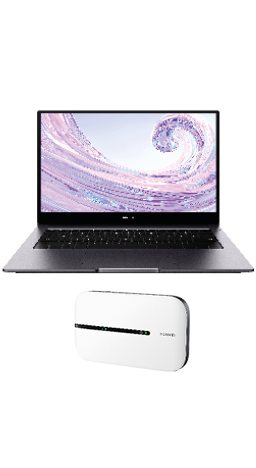 Choose the offer that best suits you :
Information
Discover the Huawei Matebook range of laptops that are popular for their performance and easy and intuitive handling. Designed to effectively meet the needs of all types of user, the Matebook range offers a remarkable user experience.
Discover the Huawei Matebook products on sale at Salt for a discount if subscribing to one of our Internet plan offers.
What are the Huawei Matebook's features?
Available in several ranges all with specific characteristics, Matebook laptops are excellent digital devices. All equipped with latest generation processors, speed and power are their watchwords.
The Matebook range offers standard models which are perfect for everyday use. A perfect balance between work and leisure. Searching the web, viewing photos, watching videos. As either 14 or 16 inch, the models in this range will suit typical users. A touchscreen and 'smart office' functionality are available on certain models. Drastically improving the quality of the user experience.
The Matebook E range can be described with one word: versatility. This perfect combination of laptop computer and touchscreen tablet enables a variety of uses for the product. The tactile pen and detachable keyboard multiply the potential of the digital device. You can therefore use it all the time and anywhere for diverse and varied tasks.
The Matebook D range ramps up the laptop's performance. The boosted processor reduces reaction times. So you enjoy better speed when processing software and large files. Ideal to improve your productivity at work.
Finally, the Matebook X is the top of the Huawei laptop range. With all the qualities mentioned above, in addition to a real graphical upgrade and larger screen. With a higher resolution and a metal finish. It weighs 1.33 kg and is 1.46 cm thick.
More information about the Matebook X range:
Operating system: Windows 10 Home with a free upgrade to Windows 11 from its launch.
Graphics card: Intel Iris Xe Graphics
Processor: 11th Gen Intel CoreTM i7-1165G7 Processor
Screen: 13.9 inches (3000 x 2000 PX, 260 ppi) with 91% screen to body ratio.
Memory: 8 GB LPDDR4 x 4266 MHz
Storage: 512 GB NVMe PCIe SSD
Connectivity: WIFI IEEE 802.11 a/b/g/n/ac/ax
2.4 GHz and 5 GHz
2 x 2 MIMO
Supports WPA/WPA2/WPA3
Bluetooth version 5.1
For what purposes should you buy a Huawei Matebook?
Huawei Matebook offers ranges for all kinds of use. As a result, you can find the ideal laptop, whatever your IT skills or the complexity of your needs.
If you want a standard and efficient tool for basic tasks, the Matebook range is ideal. If you want to regularly vary the use of your device with great tactile freedom, the Matebook E range is what you're looking for.
Then, for the performance needs of purely professional use, choose the Matebook D range. The power of the processor, among other things, will give you better responsiveness from the device.
Finally, the Matebook X range is ideal for you if you want to use a device with all the qualities of an exceptional tool. Productivity, power, lightweight, design and graphical and sound quality are the qualities associated with this range.
What are the Data subscriptions offered with the Huawei Matebook?
Salt Internet subscriptions give you the possibility to enjoy a discount on Huawei Matebook ranges. Note that these offers include a 24-month contract.
The Surf 5 GB plan gives you access to 5 GB of 4G+ Internet per month. It is suited to users who only use their Huawei Matebook very little outside their home.
The Surf 50 GB plan gives you access to 50 GB of 4G+ Internet anywhere in Switzerland, every month. This option is perfect if you need to work regularly on public transport and on your short journeys.
Finally, the Surf Unlimited plan enables you to enjoy unlimited 4G+ Internet anywhere in Switzerland. This is the right solution if you want to stream your films and TV series with no limits away from your home.
Device specifications
Operating system
Windows® 10 Home 64-bit
Size (in mm)
409 x 72 x 283 mm
Battery information
3665 mAh
Bluetooth
Bluetooth v 5.0
Wi-Fi
IEEE 802.11a/b/g/n/ac, 2,4 GHz/5 GHz,