Parental Control.
Monitor your children's
access to WiFi.
Parental Control.
Monitor your children's access to WiFi.
Flexible Internet Access Control.
Teenagers at home and High Speed Broadband might often challenge your Family life especially if you're not always at your place to watch your children.
While gaming is allowed only during the weekend, each of your children have a smartphone but also a laptop for homework. Thanks to the Parental Control feature you can control Internet access for each of your device connected to your Salt Fiber Box per hour of the day and per day of the week.

Ease of use
Simply define your rules, at any time, thanks to the very easy to use Salt Box mobile and desktop interface.

Free of charge
Salt always wants to protect its customers. This is why our Parental Control solution is available for free!

Handle all the devices you want
From your children's smartphone to your connected connected speaker, manage how many devices you need to.
Use it the way you want to.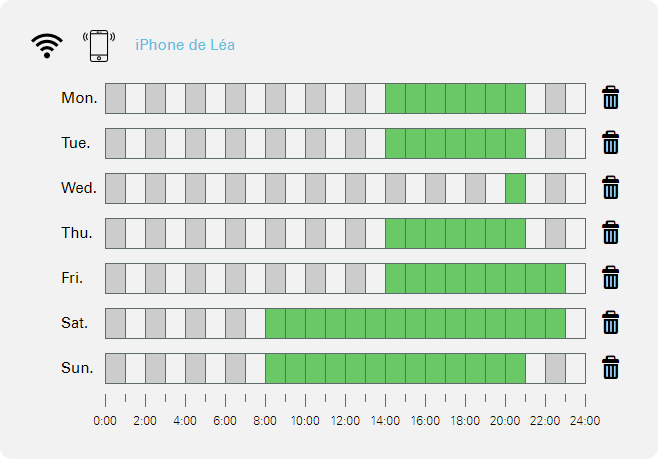 « Bedtime is 9pm and she really needs to focus on homework on wednesday. »
With the Salt Fiber Box Parental Control, you can easily manage when you let your child use internet on their smartphone. Set the rules and make sure they use the free time left during the day to do other activities.
They exceptionally need internet for a period that wasn't planned? Changing the settings will only take you about two minutes.
« I let them play the games they want, but only on weekends. »
Managing your rooms or devices has never been easier than today. With the Salt Box Parental Control, you can manage every single device that is connected to your network.
Freely choose the period your gaming consoles, your child computer, your connected speaker and so on, can access internet.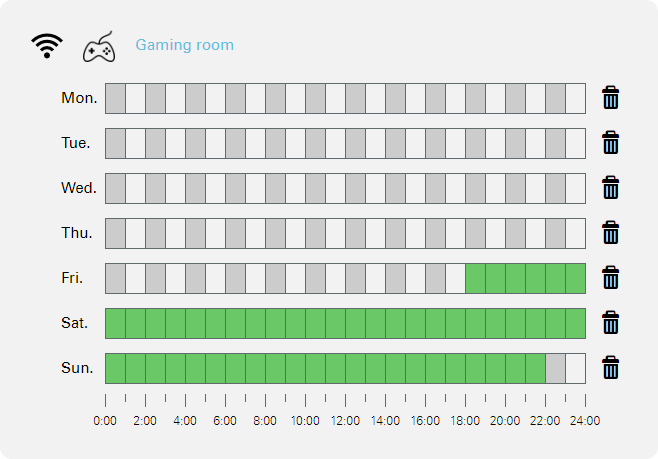 Only a few steps from making your home safer for all the family.
2.
Go to "Parental Control" in order to manage your connected devices. *
3.
Click on "Details" to manage
the internet access of a device.
4.
Once you are done, you can save the settings and they will be instantly applied.
* If you see no devices on this page, you will need to add them in the list first. To do so, go to Overview > Connected devices and choose the device you want to manage. This will add it into your parental control list.
Green and healthy WiFi
Are you concerned with power consumption or WiFi radiation and want to choose when your Fiber Box turns on the WiFi antenna ?
You can enable WiFi on your Salt Fiber Box only during certain days of the week and hours of the day. You control your WiFi coverage at your convenience.