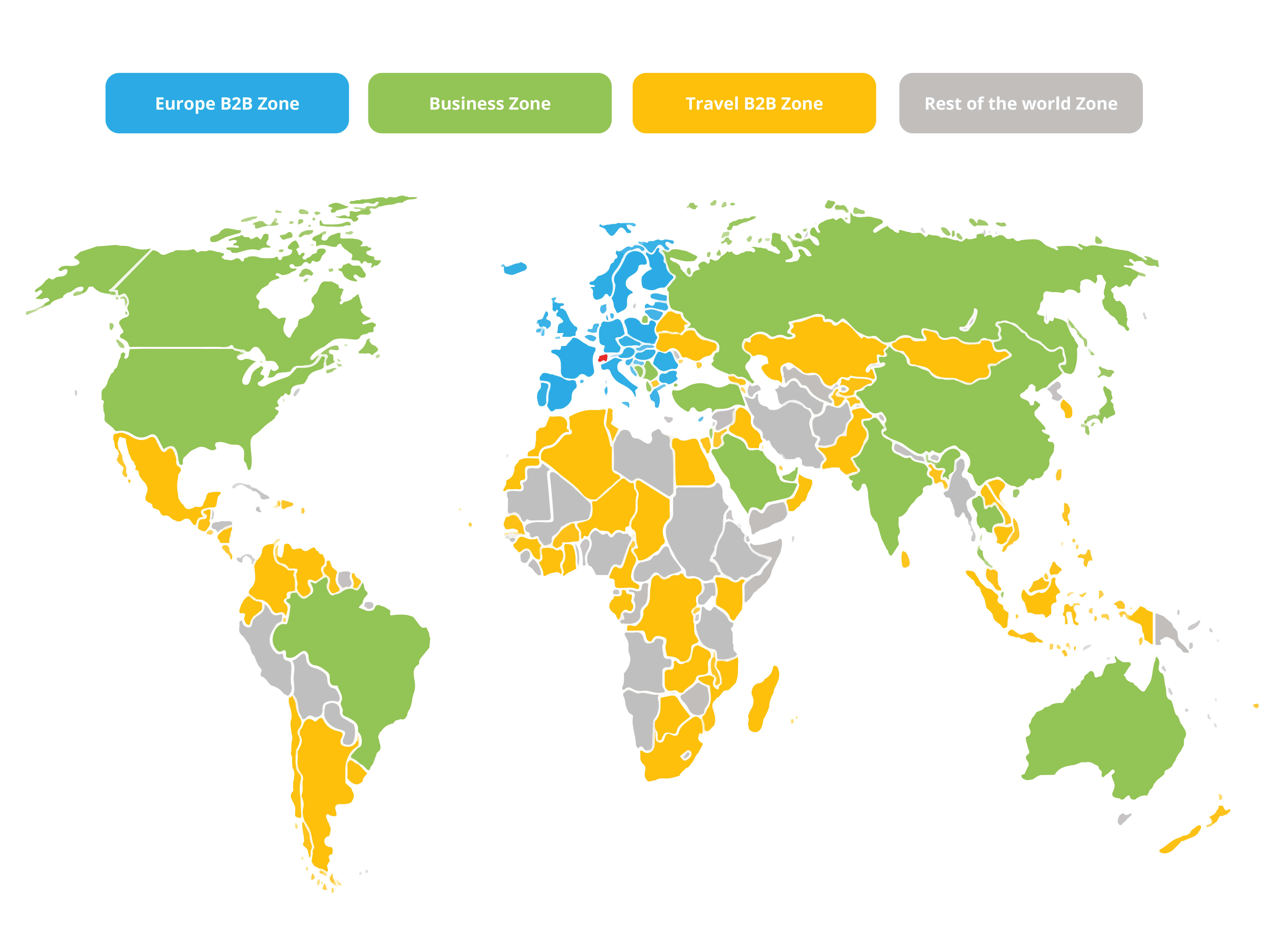 Detailed country list.
Europe B2B
40 countries
Andorra, Austria, Belgium, Bulgaria, Croatia, Cyprus, Czech Republic, Denmark, Estonia, Faroe Islands, Finland, France, Germany, Gibraltar, Greece, Guernesey, Hungary, Iceland, Ireland, Italy, Jersey, Latvia, Liechtenstein , Lithuania, Luxembourg, Malta, Man Island, Monaco, Netherlands, Norway, Poland, Portugal (including Madeira, Azores), Romania, San Marino, Slovakia (Slovak Republic), Slovenia, Spain (including Canary Islands, Balearic Islands), Sweden, United Kingdom, Vatican.
Business
20 countries
Albania, Australia, Bosnia and Herzegovina, Brazil, Canada, China, Hong Kong, India, Israel, Japan, Kosovo, Montenegro Republic of, Russian Federation, Saudi Arabia, Serbia Republic of, Singapore, Thailand, Turkey, United Arab Emirates, United States.
Travel B2B
80 countries
Algeria, Argentina, Armenia, Aruba, Bahrain, Bangladesh, Belarus, Bermuda, Botswana, British Virgin Islands, Brunei Darussalam, Burkina Faso, Cambodia, Cameroon, Cape Verde, Chad, Chile, Colombia, Congo Democratic Republic of the, Costa Rica, Dominican Republic, Ecuador, Egypt, El Salvador, Fiji, French Guyana, Gabon, Georgia, Ghana, Guadeloupe, Guatemala, Guinea, Guyana, Haiti, Indonesia, Iraq, Ivory Coast, Jordan, Kazakhstan, Kenya, Korea Republic of, Kuwait, Kyrgyzstan, Lao People's Democratic Republic, Macao, Macedonia Republic of, Madagascar, Malawi, Malaysia, Martinique, Mexico, Mongolia, Morocco, Mozambique, New Zealand, Nicaragua, Niger, Oman, Pakistan, Philippines, Qatar, Reunion, Rwanda, Saint Martin, Saint-Barthélemy, Senegal, Seychelles, South Africa, Sri Lanka, St-Pier-Mq., Taiwan Province of China, Tajikistan, Trinidad and Tobago, Tunisia, Ukraine, Uruguay, US Virg. Island, Venezuela, Viet Nam, Zambia.
Rest of the World
77 countries
Afghanistan, Angola, Anguilla, Antigua and Barbuda, Azerbaijan, Bahamas, Barbados, Belize , Benin, Bhutan, Bolivia, Burundi, Cayman Islands, Central African Republic, Comoros, Congo, Cook Islands, Cuba, Djibouti, Dominica, Eq. Guinea, Ethiopia, French Polynesia, Gambia, Greenland, Grenada, Guin.-Bissau, Honduras, Iran, Jamaica, Lebanon, Lesotho, Liberia, Libya, Maldives, Mali, Mauritania, Mauritius, Moldova Republic of, Montserrat, Myanmar, Namibia, Nepal, Netherlands Antilles, New Caledonia, Nigeria, Palestinian, Panama, Papua New Guinea, Paraguay, Peru, Puerto Rico, Saint Kitts and Nevis, Saint Lucia, Samoa, Sao Tome and Principe, Sierra Leone, Solomon Island, Somalia, South Sudan, St. Vincent and the Grenadines, Sudan, Suriname, Swaziland, Syrian Arab Republic, Tanzania United Republic of, Timor-Leste, Togo, Tonga, Turkmenistan, Turks and Caicos Islands, Uganda, Uzbekistan, Vanuatu, Wallis et Futuna, Yemen, Zimbabwe.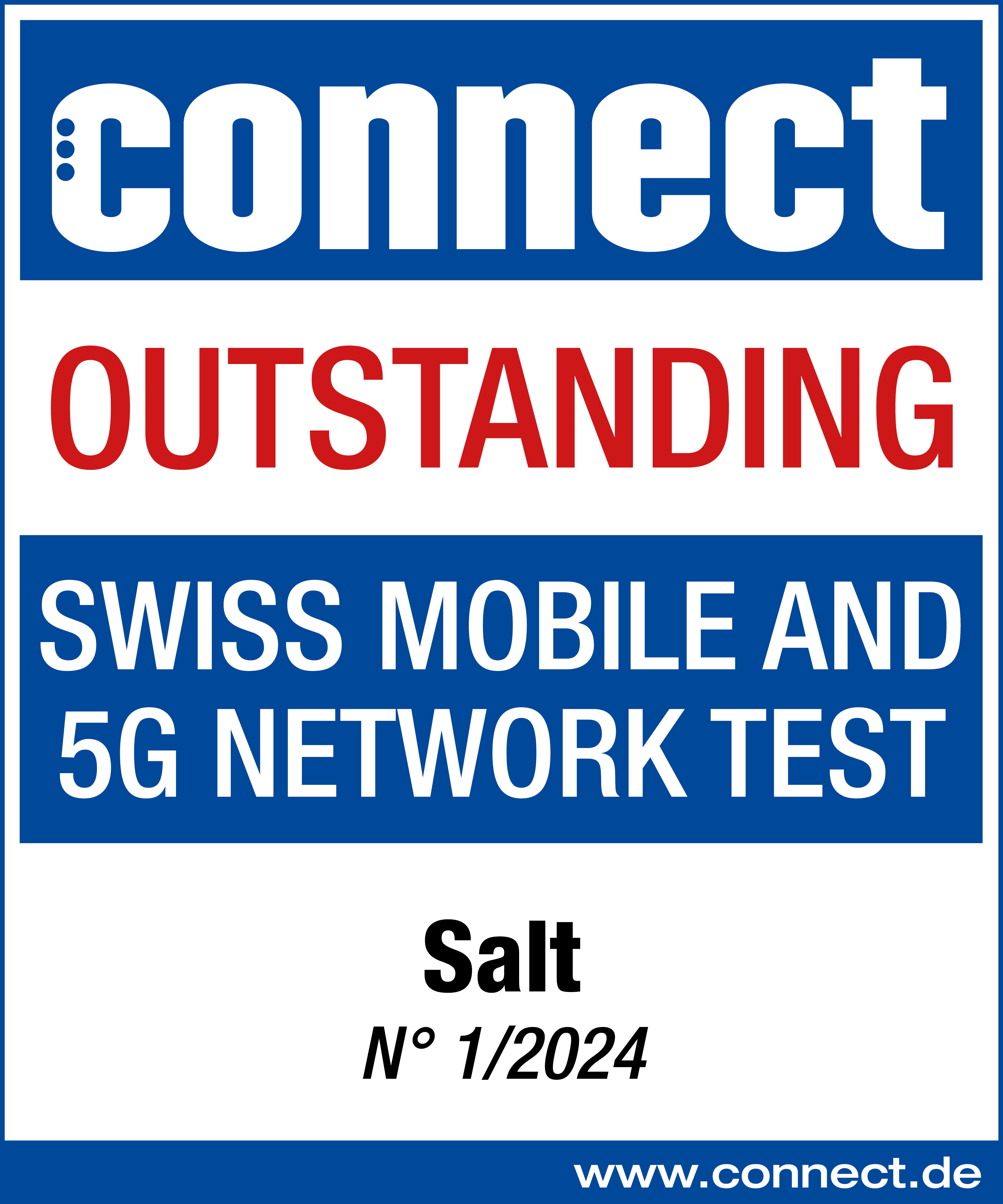 The 2023 result marks the highest test score Salt has ever achieved.
Why
     Salt
Business?
Quality
Best universal provider in Switzerland.
Coverage
99.9 % 4G+ mobile network coverage in Switzerland.
Service
Best service hotline in Switzerland.
Price
Premium offers at the best price.