Salt TV remote 2.0
An easy to use and intuitive remote control especially designed to work with the Apple TV 4K (1st and 2nd generation). It allows you to enjoy all the features of your Salt TV application and the wide world of entertainment that the Apple TV 4K offers with its millions of apps from the App Store.
The Bluetooth technology ensures seamless connectivity to your Apple TV in addition to the traditional TV experience that you love. Enjoy both that familiar feeling and the vast world of digital TV with the new Salt TV remote 2.0 and Apple TV 4K.
Available online and in any of our Salt Stores.

User friendly
Easy to operate with buttons
Direct access to the Salt.tv app via the "Guide" button
State of the art technology
Infrared assisted pairing with any TV set
Smooth connection with Bluetooth technology
Microphone for voice control
Dynamic backlighting
General information
Technical requirements
tvOS 14.4 or later
Salt.tv 2.2115.0 or later
Salt TV has to be registered as your TV provider (for the «Guide» button to work): See FAQ
Pairing the remote control
Hold your remote control close to the Apple TV (maximum distance 10 cm)
Press simultaneously the MENU and (volume) + buttons during 10 seconds
After 10 seconds, a notification is displayed in the top right corner stating that the remote control has been paired.
Note: Only 1 Bluetooth device can be paired with the Apple TV. If another Bluetooth device was paired, it will be disconnected when you pair your Salt TV remote. You can pair it again any time later.
Automatic background update, at night
Salt TV features in detail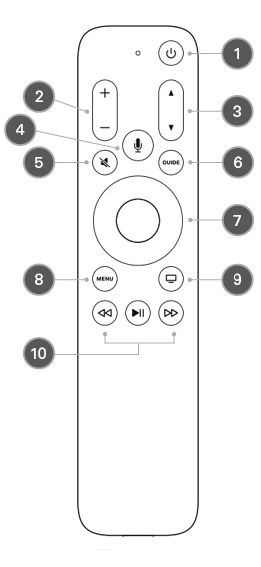 1 - Standby / Switch on. Press and hold this button to put the device into standby mode.
A long press on this button (more than two seconds) allows you to switch off the Apple TV only (unless the CEC function is activated; in this case, your television will be turned off as well).
2 - Volume.
3 - Channel/page.
4 - Siri. Press and hold to speak.
5 - Mute the sound.
6 - Guide.
7 - Navigation.
up/down/left/right
Press the middle button to make your selection.
8 - Menu.
Press this button to return to the previous menu.
Press and hold to return to the home screen.
9 - TV/Home.
Press this button to return to the TV/Home screen.
Press and hold to access the Control Center.
10 - Playback control.
Rewind, play, pause and fast forward.
Advanced features. FAQ.
Fast forward and rewind in Salt TV
In LIVE TV :

Press the button Play/Pause.
Make a long press on the << button to start rewinding (you can then stop pressing).
Press the Play/Pause button twice to return to playback mode.
If you then want to fast forward, press and hold the >> button.



In REPLAY / RECORDINGS / VOD:

Click left and right on the central navigation button to jump 10 seconds backwards or forward.
Click on the << / >> buttons to start rewinding / fast-forwarding (click up to 3 additional times to increase the speed) and then click on the button Play/Pause button to resume normal speed.
Keep the << / >> buttons pressed for as long as you want to rewind / fast forward.
How to close an app?
Double-click (quickly) on the TV button to display all opened apps.
Navigate left on the central navigation button to select the app you want to close.
Once selected, double-click twice upwards on the central navigation button to close the app.
How to register Salt as TV Provider?
Go to the Apple TV Settings.
Select Users and Accounts > TV Provider > Sign In.
Choose Salt in the list (if not in the list, select 'Other TV Provider Regions…).
Enter your Salt.tv credentials.