MacBookAir 13in M1 256 GB
APPLE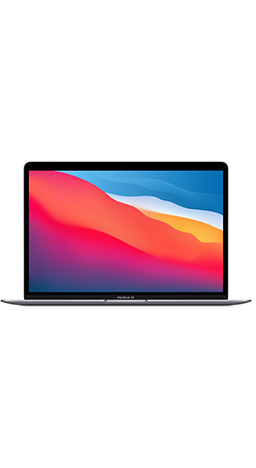 Choose the offer that best suits you :
Information
Salt offers you the MacBook Air M1 256 GB at a reduced price in combination with a mobile or surf subscription thanks to our great offers. Get a premium notebook that is characterized by its light weight and high performance, allowing you to work and watch movies and videos in 4K.
Take out one of the 10 subscriptions offered by Salt to surf the web, call and send unlimited SMS and MMS while, at the same time, treating yourself to an Apple device at a low price.


What are the technical features of the MacBook Air?
With its storage capacity of 256 GB the MacBook Air allows you to store a large selection of files. Rediscover the joys of using a notebook thanks to its 13.3" LED-backlit retina display which reaches up to 6K. Coupled with IPS technology, the MacBook Air's display has a resolution of 2,560 x 1,600 pixels.
Enjoy a range of new colours and marvel at the millions of different shades supported. Reduce your eye strain thanks to the True Tone technology. This feature adapts the brightness of the screen depending on your surroundings.
Benefit from the performance and the 8-core CPU of the Apple M1 chip. Browse the web for up to 15 hours without interruption and watch up to 18 hours of movies without needing to recharge the device. This model supports Wi-Fi 6 802.11ax and is also compatible with the norm IEEE 802.11/b/g/n/ac.
You can easily connect adaptors and earphones with the 2 Thunderbolt/USB 4 ports and the 3.5 mm headphone jack. In addition, you can also stream sound from your device to a loudspeaker system thanks to the wireless Bluetooth 5.0 technology in particular.
Lock and unlock your MacBook Air thanks to the Touch ID sensor in the top right corner of your keyboard. Moreover, you can hold conversations in HD (720p) thanks to the device's FaceTime front camera.
Light as a feather, the MacBook Air only weighs 1,290 g and measures 30.41 cm x 21.24 cm x 1.61 cm (w x d x h). Easy to store and transport, this work tool will accompany you everywhere you go.


What is the battery life of the MacBook Air?
The Mac features a built-in 49.9 Wh lithium polymer battery which boasts around 20 hours of battery life. To recharge your device, you can use the included 30 W USB-C adaptor, which can recharge your device in a maximum of 2 hours.
You can thus spend a lot of time using your computer and all of its functions in battery-mode.


What can you use the MacBook Air for?
The MacBook Air is perfect for graphic design and writing. Its display quality and processor performance allow you to use numerous image and word processing software programmes.
If you work with office, multimedia or web development applications on a daily basis, you will definitely get your money's worth with the MacBook Air.
In terms of recreation, photos and movies have never looked more vibrant than on the MacBook Air. Enjoy your preferred movie to the fullest and marvel at the millions of lifelike colours processed by the retina display. Immerse yourself in your surroundings thanks to the device's stereo loudspeakers. The MacBook Air also supports Dolby Atmos audio.
Note that the light weight of the device makes it the preferred accessory for nomadic users as you can literally take it everywhere with you.
Device specifications
Operating system
macOS Big Sur
Size (in mm)
304.1 x 212.4 x 16.1 mm
Battery information
49.9 Wh
Size and description
13.3" 2560 x 1600 ; 227ppi
Bluetooth
Bluetooth®: BT 5.0
Wi-Fi
WiFi 6 802.11ax ; IEE a/b/g/n/ac comptatible