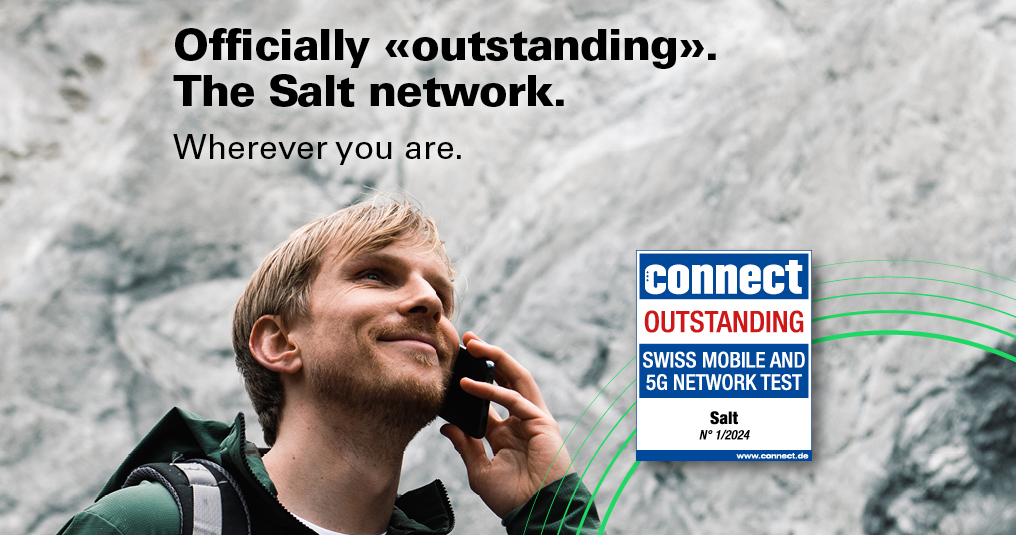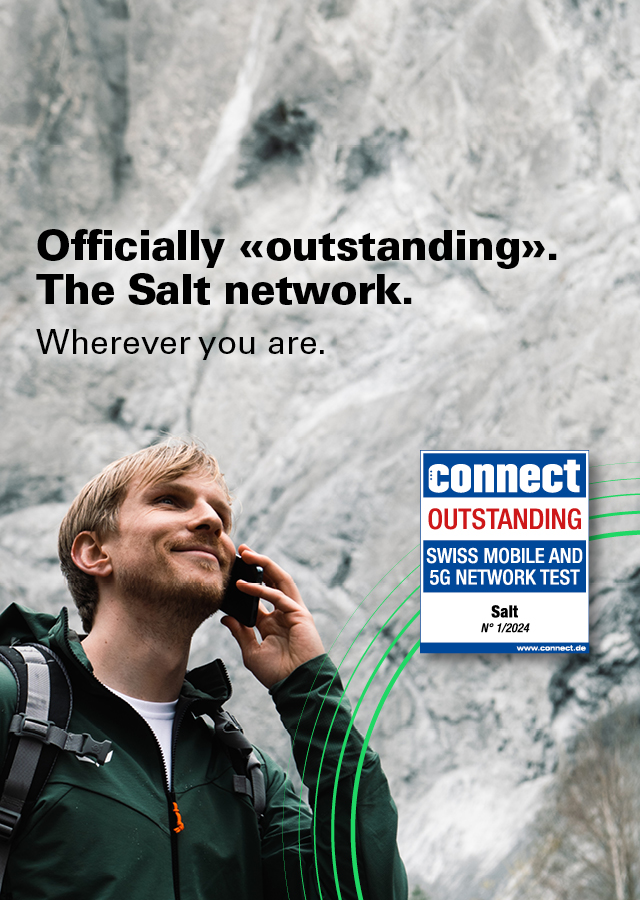 Outstanding Salt! Outstanding Network at Outstanding Prices
November 29th, 2023
Salt achieved a significant milestone by advancing to an outstanding rating in this year's Connect mobile network test. With 950 points out of a maximum of 1,000 points, Salt joined its other two national competitors in obtaining the highest test rating across all three test criteria: voice, data and crowdsourcing. This result is the fruit of the company's significant investments over the past years and reiterates Salt's commitment to offering its subscribers the best service at outstanding prices.
Q3 2023 Financial Results
November 24th,2023
Sustained Subscriber Growth Across All Segments – Further Increase in Operating Revenue and EBITDA – Top Marks in Bilanz Rating and Connect Broadband Test – Expanding Growth Platform with Increasing FTTH Reach and Growing Sales Network – Credit Rating Upgrade.
Salt voted preferred among the national mobile operators for SMEs, according to PME Magazine
September 27th,2023
In 2023, Salt Business maintains its strong growth momentum and achieves top ranks in a survey with small and medium enterprises conducted by PME Magazine. Salt affirms its leading position among Switzerland's three main network operators for the third time in a row.
Connect Broadband Test: Salt Number 1, with Outstanding Score of 987/1000
September 5th,2023
Just last week, Salt achieved the highest score of 987 points out of a maximum of 1000 in the Connect Magazine fixed broadband test. Salt was recognised as the best regional provider with an "outstanding" rating among all Swiss operators. With a coverage of 2 million households across Switzerland, Salt expands its fiber broadband coverage every month, as the national Fiber to the Home (FTTH) footprint increases.
Q2 2023 Financial Results
August 25,2023
Strong Financial Performance and Continued Momentum in Subscriber Growth Across All Segments: Mobile B–to-C, B-to-B and Home - Best Universal Provider for Residential and Corporate Customers According to Latest BILANZ Telecom Rating - Credit Rating Upgrade and Successful Placement of a CHF 100 Million Issue
Salt is Number 1 Universal Provider for Residential Customers and Large Companies According to BILANZ Telecom Ranking
August 24,2023
On August 24, 2023, the Swiss business magazine BILANZ published the 24th edition of its telecom ranking. Among all Swiss operators, Salt was ranked best universal provider for residential customers (mobile, internet and TV) and large companies. With this year's award, Salt has ranked number one universal provider for residential customers for the third year in a row.
Salt adjusts its mobile price plans to reflect inflation
July 18th,2023
Over the past years, Salt has continuously expanded its service, performance and network coverage, while the prices for its mobile subscriptions have continuously been reduced. Due to the significant increase in input costs over the last 18 months, Salt has now decided to adjust the prices for some of its mobile subscriptions as of September 2023. PrePay offers, device bundles, options and large B-to-B accounts are not affected by the price adjustment. Salt is committed to keeping prices unchanged thereafter until 2025 and will not additionally pass on the upcoming VAT increase to customers. Salt remains steadfast in its dedication to delivering very attractive prices in the market and is determined to implement further enhancements across its products and services going forward.
Matterhorn Telecom S.A. Announces Pricing of Senior Secured Notes Offering
July 12th, 2023
Matterhorn Telecom S.A. (the "Company") today announces the pricing of an offering of CHF 100 million aggregate principal amount of Senior Secured Notes due 2028 (the "Notes"). The Notes were priced at 100% of their aggregate principal amount and the coupon will be 5.250% per annum (the "Offering"). The Senior Secured Notes have been assigned a rating of 'BB-' by S&P Global Ratings and a rating of 'BB+(EXP)'/'RR2' by Fitch Ratings.
Salt: S&P Global Ratings upgrades Matterhorn Telecom Holding's credit rating to 'BB-' – Fitch Ratings assigns a first-time rating of 'BB-'
July 11th, 2023
S&P Global Ratings has upgraded the long-term issuer credit and issue ratings on Matterhorn Telecom Holding S.A. (Matterhorn Telecom), the parent company of Salt, a leading Swiss telecommunications provider, to 'BB-' from 'B+'. At the same time, Fitch Ratings has assigned Matterhorn Telecom a first-time Long-Term Issue Default Rating of 'BB-' and a BB+ issue rating to its proposed secured notes. The outlook for those ratings is stable.
1st Quarter 2023 Financial Results
May 26th, 2023
Strong financial performance maintained and continued subscriber momentum – Salt now serves more than 1.5 million postpaid mobile and more than 200'000 broadband customers – Salt will become exclusive partner of Swiss Post to provide telecommunication services to Post customers as of 2024.
Connect 2023: Salt Home Offers the Best Broadband in Switzerland.
May 16th, 2023
Salt Home at same price for last five years (from CHF 39.95) and commitment to keep price unchanged until June 2026 at least
May 9th, 2023
Salt's revolutionary ultra-fast broadband offer including internet, TV and fixed telephony celebrates its 5th anniversary – over 200,000 Swiss customers trust Salt Home.
Full Year Results 2022
March 24th, 2023
2022 was a record year for Salt with highest number of net adds in mobile, strongest residential and B2B customer momentum, and above market revenue and EBITDA growth.
The sky's the limit: Salt and SpaceX's Starlink Team Up to Provide Continuous Connection Throughout Switzerland
March 1st, 2023
Barcelona/Renens - 1 March 2023 - Salt, a leading European telecommunications provider based in Switzerland, has announced a groundbreaking agreement with SpaceX to provide continuous coverage through satellite technology. This agreement, first of its kind in Europe, leverages SpaceX's Starlink satellite constellation as much as Salt's mobile network to connect Salt's current and future mobile customers to Starlink satellites, providing them with enhanced connectivity and coverage.
Max Nunziata appointed as new Salt CEO
February 24th,2023
Today, Salt announces the appointment of Massimiliano "Max" Nunziata as its new Chief Executive Officer. Max will replace Pascal Grieder who decided to resign for personal reasons after almost 5 years in the job. Until Max formally takes over on June 1, Franck Bernard, CFO, will lead the company as interim. Pascal will work closely with Max and Franck to ensure a smooth transition in the months ahead.
Salt achieves 99.9% network coverage throughout Switzerland
February 2nd,2023
Salt's network coverage in Switzerland approaches 100%, as a result of ongoing substantial investments in its mobile network infrastructure. After exceeding the 99.7% earlier last year and 99.8% in autumn of 2022, this is a major milestone in the companies' journey towards network excellence.
Salt Home ranked once again number 1: Switzerland's best perfoming fixed broadband internet access
January 20th,2023
Salt continues to offer the best internet performance on fixed networks and dominates with first place the Swiss market for the third consecutive year in all fixed-line technologies. This is the conclusion of the 2022 nPerf barometer of fixed internet connections for Switzerland. In 2022, Salt customers benefited once again from the best upload and download speeds and the lowest latency of all fixed-line technologies.