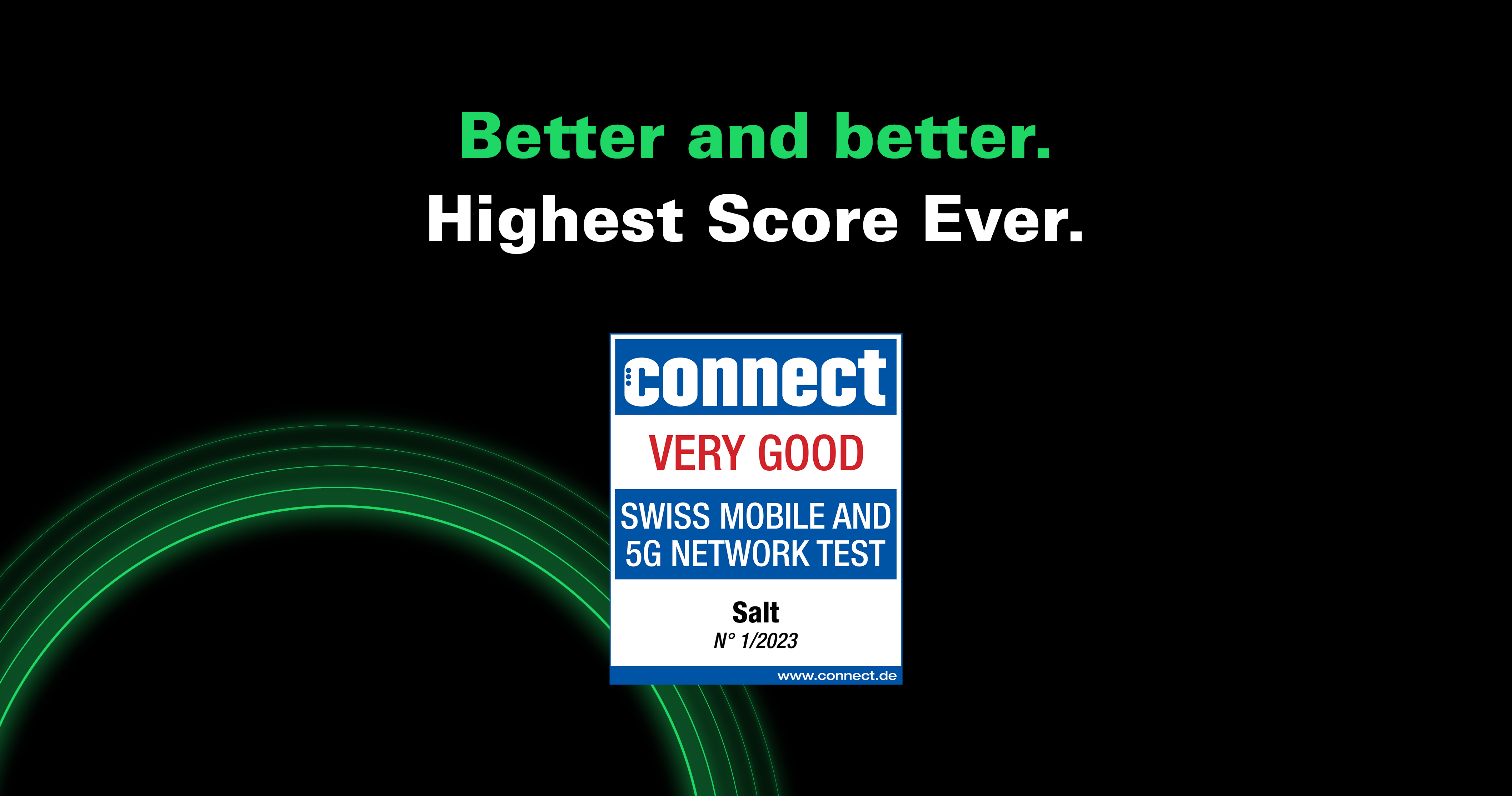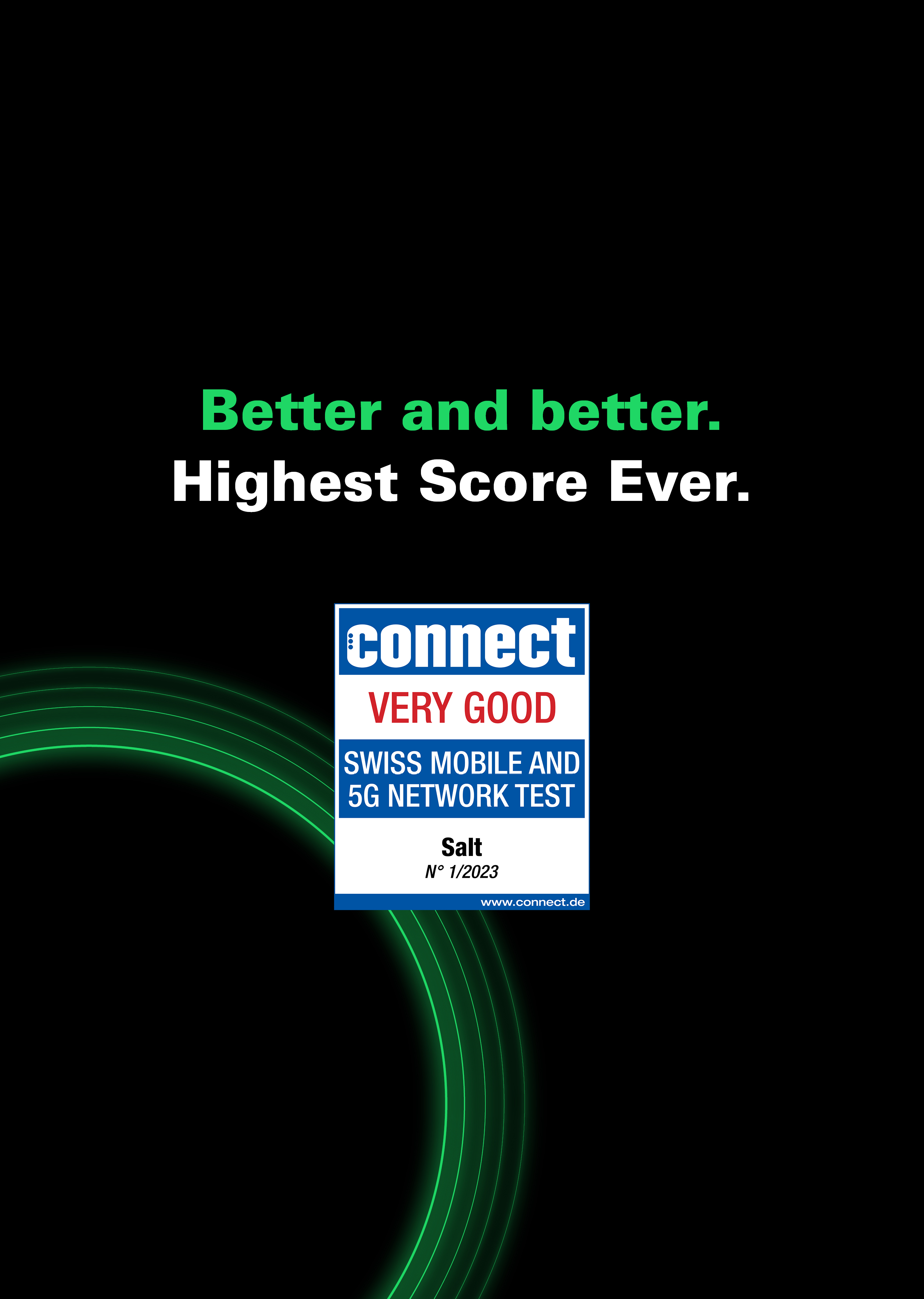 1st Quarter 2023 Financial Results
May 26th, 2023
Strong financial performance maintained and continued subscriber momentum – Salt now serves more than 1.5 million postpaid mobile and more than 200'000 broadband customers – Salt will become exclusive partner of Swiss Post to provide telecommunication services to Post customers as of 2024.
Connect 2023: Salt Home Offers the Best Broadband in Switzerland.
May 16th, 2023
Salt Home at same price for last five years (from CHF 39.95) and commitment to keep price unchanged until June 2026 at least
May 9th, 2023
Salt's revolutionary ultra-fast broadband offer including internet, TV and fixed telephony celebrates its 5th anniversary – over 200,000 Swiss customers trust Salt Home.
Full Year Results 2022
March 24th, 2023
2022 was a record year for Salt with highest number of net adds in mobile, strongest residential and B2B customer momentum, and above market revenue and EBITDA growth.
The sky's the limit: Salt and SpaceX's Starlink Team Up to Provide Continuous Connection Throughout Switzerland
March 1st, 2023
Barcelona/Renens - 1 March 2023 - Salt, a leading European telecommunications provider based in Switzerland, has announced a groundbreaking agreement with SpaceX to provide continuous coverage through satellite technology. This agreement, first of its kind in Europe, leverages SpaceX's Starlink satellite constellation as much as Salt's mobile network to connect Salt's current and future mobile customers to Starlink satellites, providing them with enhanced connectivity and coverage.
Max Nunziata appointed as new Salt CEO
February 24th,2023
Today, Salt announces the appointment of Massimiliano "Max" Nunziata as its new Chief Executive Officer. Max will replace Pascal Grieder who decided to resign for personal reasons after almost 5 years in the job. Until Max formally takes over on June 1, Franck Bernard, CFO, will lead the company as interim. Pascal will work closely with Max and Franck to ensure a smooth transition in the months ahead.
Salt achieves 99.9% network coverage throughout Switzerland
February 2nd,2023
Salt's network coverage in Switzerland approaches 100%, as a result of ongoing substantial investments in its mobile network infrastructure. After exceeding the 99.7% earlier last year and 99.8% in autumn of 2022, this is a major milestone in the companies' journey towards network excellence.
Salt Home ranked once again number 1: Switzerland's best perfoming fixed broadband internet access
January 20th,2023
Salt continues to offer the best internet performance on fixed networks and dominates with first place the Swiss market for the third consecutive year in all fixed-line technologies. This is the conclusion of the 2022 nPerf barometer of fixed internet connections for Switzerland. In 2022, Salt customers benefited once again from the best upload and download speeds and the lowest latency of all fixed-line technologies.